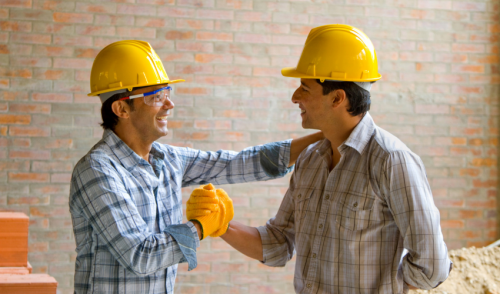 I'm going to go out on a limb and say that you don't lack marketing ideas. You attend educational sessions, webinars, talk to colleagues, receive countless emails, and read books and trade publications. You've read all kinds of great ideas on how to better market your business. You don't lack marketing ideas. What you lack is how to determine which ideas are most important to focus on and which will produce the best return on investment. And after that—which is most critical—how to get to work and consistently implement those ideas.
Based on my work with remodelers around the country, I've compiled a list of fundamental marketing activities to focus on each month, seen on the opposite page. Yes, there are some of you who may look into investing in radio/TV/print options. Perhaps you'll make some strategic investment in SEO/Google AdWords or participate in home show, your local Parade of Homes, and other activities. However, before you do any of those, make sure these tried and true basics are focused on and consistently implemented.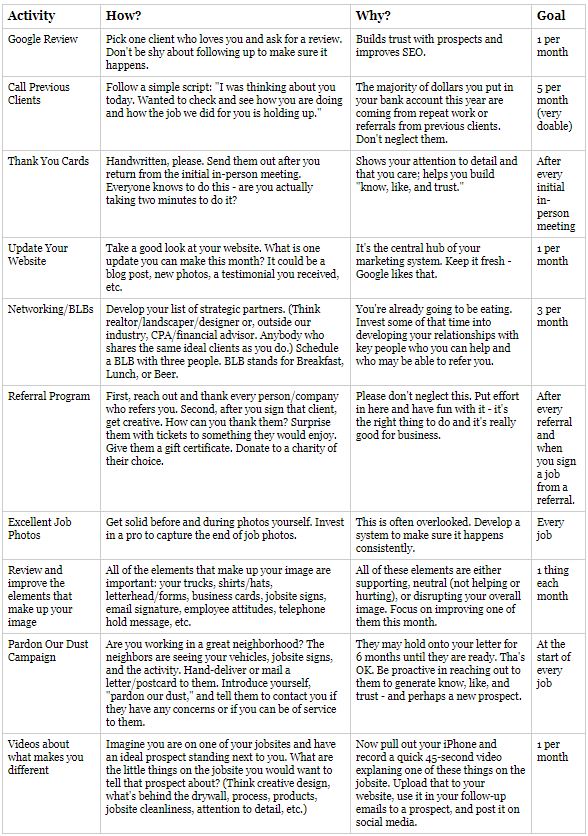 This is where the rubber hits the road. Are you going to implement these practical ideas? What is one thing you can take action on today? Is there anything here that you can delegate to one of your team members?
If you do these things you will:
Have a strong and standout website.
Be proactive in reaching out to your previous clients to generate repeat and referral work.
Be differentiating your remodeling company from anybody else the homeowner may be in contact with.
Be developing a strong team of strategic partners who you can mutually benefit from.
Be rewarding and consistently thanking the great people who trust you enough to refer you, which will spur more referrals.
Have great photography of your projects to show new prospects.
Have all of the elements that make up your image be in alignment with the professional company you seek to be.
Proactively market to a very targeted list of neighbors around your jobsites who may, in turn, become your next client.
Remember: Focus less on what to do and more on doing it. Work the list above and be consistent with them. They are very proven, practical, and effective. Best of all, they produce quality remodeling leads and just plain work.
This article was originally posted on Remodeling
To view this article in its original form, Click Here!